Lake Manyara: A favourite haunt of Ernest Hemingway
Lake Manyara National Park is small compared to Tanzania's other parks. At only 330 square km it fits neatly into the Great Rift Valley it is the real Cinderella of Tanzania parks. It is often overlooked and underrated but this gem was described by Ernest Hemingway as 'the loveliest place I have ever seen' when he set eyes on it. The shallow alkaline lake is often covered by resident flamingos and whatever the park lacks in size it make up for in diversity.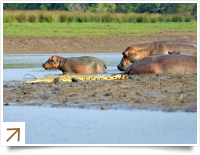 The range of ecosystems at different elevations make for dramatic scenery and if you're a birder this park has to be on your list of places to visit. There is a huge variety of habitats making for a great range of birdlife. The park is also known for its famous tree-climbing lions. It has been suggested by a local warden that this strange behavior probably started during a fly epidemic when the big cats decided to take to the tress to escape from the swarms of biting flies and that this ongoing behavior has now become part of everyday life.
Apart from the lake and the lions there is an expanse of tropical jungle filled with troops of baboons and other denizens of the rainforest. Large herds of buffalos and zebras wander on the plains and in the distance are the ever present jagged peaks of volcanos.
Below you can see our tours which take in Lake Manyara.