Trekking adventures on Mt. Kilimanjaro - The roof of Africa
Whether you're doing it for charity, to fulfil some long-held ambition or just for a sense of personal achievement, climbing Mount Kilimanjaro is an experience you won't forget in a hurry.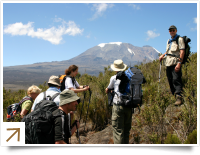 Africa's highest peak, and the tallest freestanding mountain in the world, 'Kili' as it's affectionately known is in fact a long extinct volcano with its three cones rising high out of the African plains. Two of the peaks are dormant but a third, Kibo, shows signs of activity and is thought to still be live.
One of the features of Mt.Kilimajaro that makes it so special is the different zones one passes through on an ascent. Technically the volcano is an Afromontane sky island, meaning unique flora and fauna exist there as a result of its isolation and altitude. It's a biodiversity hotspot and the forests are full of birds and animals, so don't forget to bring your camera and binoculars.
Trekkers will pass through eerie cloud forests on the lower slopes before traversing moorland and finally arriving at the snowy and rocky summit. Attempts on the summit usually set off during the night so that trekkers can reach the peak as the sun rises and have time to get back down again.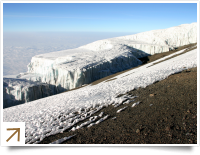 In reality one does not so much climb Kilimanjaro as walk or trek up in. There are six different paths of ascent with the Marangu route being one of the easier ones and taking around five days and staying in huts or tents along the route. A reasonable degree of fitness is required to trek up Kilimanjaro, but an overwhelming majority of people have no problem reaching the summit.
If you think you'd like to take up the challenge of climbing Kilimajaro we can arrange the experience for you. Below are our most popular guided tours but we can tailor the experience for you and arrange different routes on request.
Why choose Albatros for your Kilimanjaro experience?
Albatros is one of few international companies who have their own dedicated Kilimanjaro operation, giving you peace of mind that when you make a booking it is us handling your climb as opposed to an anonymous sub-contractor.
Albatros ensures that our equipment on the mountain is the best for the mountain. We also ensure that all equipment is replaced in good time, and kept in a top quality condition. We provide two person tents of proven quality made in the US by Mountain Hardware, which are specifically designed for mountain use. There is plenty of personal space, an ample luggage storage area, and a separate external flysheet. Breakfast and dinner are served in our separate mess tent with folding chairs and tables on our climbs.
Albatros takes the safety of our clients very seriously. Oxygen bottles are carried on every climb, as are first aid kits and backup communication equipment.
All of our guides are trained in wilderness first aid practices by a certified professional trainer and go through a refresher course once a year.
Porter welfare is an important part of our staff policy. We pay a good salary and ensure that our porters have sleeping tents on all camping routes. Porterage is the largest single cost element on mountain climbs and the temptation to reduce this cost always exists.