Selous: Tanzania's Untamed Wilderness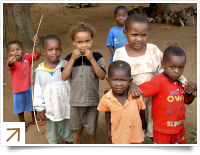 Many visitors come away from the Selous Game Reserve acknowledging that this is Africa as it always has been and not as tourism has made it. The park is one of only three World Heritage sites in Tanzania and it's a true untamed wilderness. The reserve covers 50,000 square km and comprises a full 5 percent of Tanzania's land area. Indeed it is the largest national park in Africa and the second largest in the world.
Only the area north of the Rufiji River is open to visitors yet this area of the Selous will still provide visitors with fantastic game and bird viewing opportunities. The fact that the park only has a few game lodges adds to the exclusive feeling of the area.
As the area is still generally unvisited game viewing is a luxury, you will rarely see another vehicle. Another huge attraction for the Selous is that those on safari can walk in the bush themselves, with the protection of an armed ranger.
Selous is rugged and what Africa should be.