Zanzibar Nights and Pemba Dreams
Think of an exotic island and you'll probably be thinking of Zanzibar. This ancient island was once ruled by sultans and slave traders and served as a stepping stone into the African continent for missionaries and explorers.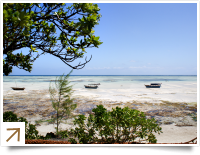 Today this jewel in the Indian Ocean attracts visitors intent on discovering the white sandy beaches, tropical forests and colourful coral reefs while staying at one of the quality Zanzibar beach resorts.
Aptly knows as the Spice Islands, Zanzibar and the nearby little-known Pemba and Mafia Islands are separated from the mainland by a narrow strait. Stone Town on Zanzibar is a maze of winding streets lined with houses featuring magnificently carved brass-studded doors. The islands are steeped in history and you can sense the mystique as you wander through the bazaars and markets and marvel at the still-grand architecture. If you plan to visit Zanzibar, an excursion to Stone Town is a must.
What's more, the islands have some of best beaches in Africa and are the perfect spot for a post or pre safari wind-down. The palm trees and Arab dhows act as the perfect backdrop to lazy days of eating fresh seafood, exploring laid-back villages and swimming in the crystal blue waters on these island paradises. It is not difficult to see why Zanzibar is considered to be one of the world's most romantic honeymoon locations, with many couples choosing to tie the knot here and spend their fisrt few married weeks in paradise.
Below are our package tours to Zanzibar and Pemba but if you would like us to create your perfect Zanzibar holiday just get in touch with us and we will do our best to make your trip an unforgettable one.